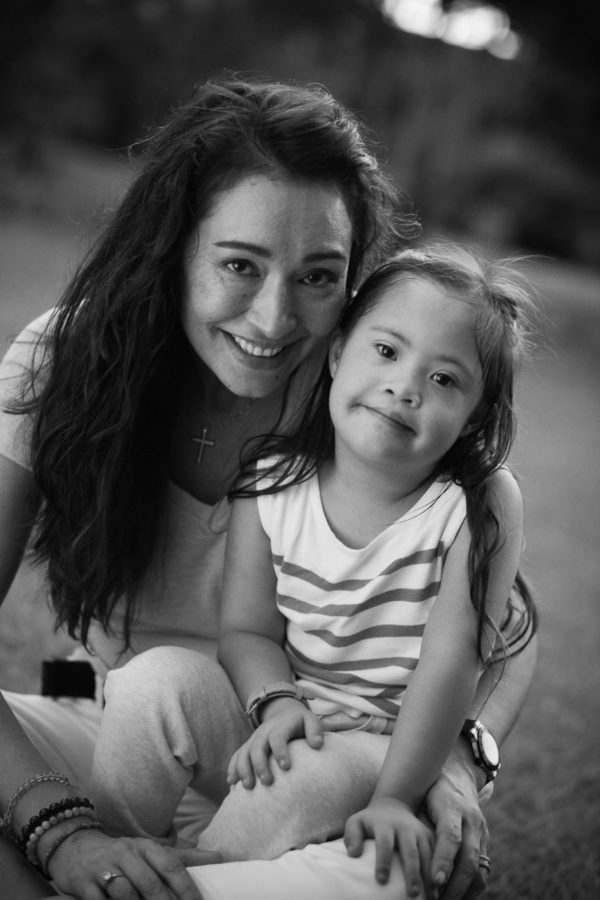 We hit it off the first time we met. What I liked about her were her unpretentious and easy ways. Little did I know that there was so much more to her story. A beautiful story. Not an easy one but one she handles flawlessly.  She is one tough cookie who lives her life with passion and drive not letting circumstances block her futures view. Meet Michelle Aventajado (aka @mommanmanila). She wakes up at five in the morning, lounges a bit in her porch, makes the days take out food for her hubby & kids and tries to write for her blog daily. She also fits in exercise! I don't know how she does it, but she does. While her husband is her priority, she has four kids to care for. Gia, Miguel, Diego and Gelli.
Michelle blogs about family, food, restaurants, recipes, special needs and parenting. She plans to steer her blog in a new direction that will focus on relationships, marriage and parenting. But what makes her blog and advocacy different is her passion for helping children with special needs such as down syndrome, autism and GDD (Global Developmental Delay) whose focus is on intellectual developmental disabilities.
She heads the foundation Best Buddies International in the Philippines. Best Buddies presence is in fifty countries and has been in Manila for three years. The foundation equips children from middle school to high school until  they become eighteen year old citizens. She says "Best Buddies furthers social inclusion through friendship. We all need friends. Our friendship programs encourage acceptance, create awareness, and further inclusion by pairing typical individuals with kids and adults with IDD. (Intellectual and Developmental Disabilities) As their friendships blossom, we see how their worlds expand, their leadership skills are strengthened, and their lives are enriched with the idea that "someone gets you." You have "someone in your corner," and that definitely makes the world a better place. Everything is more fun when you have friends!"
Her Gelli was born with down syndrome.  Michelle's heart has been to equip Gelli and all the children who are in the foundation with life skills through a buddy system. She aims to further social development and interaction so they can build normal lives and have tight friendships.
Apart from all I have mentioned, she co-blogs too with Sabrina Go for Mothers Who Brunch. They inspire mothers to enjoy the kitchen and cook for their families.  To learn more about Michelle, her advocacy and Best Buddies, click the links below.
You truly are an inspiration, Michelle. May God continue to bless you and advance you.
Below are all the links to learn more about this wonder-woman-mama's-life.